About The Show
What is Game Show Nite?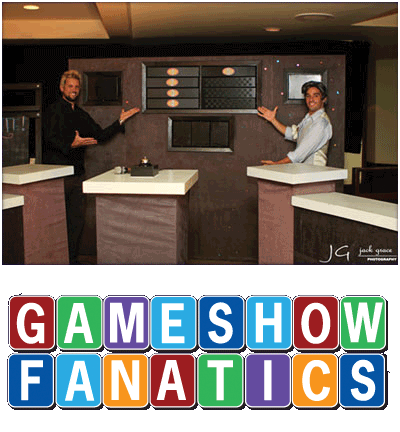 The idea is simple.  We re-created the Family Feud.  We have a professional set with all the bells & whistles.  No projection screen.  We've got the answers 'flipping' with the DING! just like in the real show!  Lighting, check!  Sound, check!  Funny Game Show Host donning a hideous wig (we call it The Silver Fox) with non-stop one liners, check!  Now imagine the energy of a Game Show.  Contestants from your party approaching the podium to the music to face-off and ring the buzzer- it's hilarious!
Lighting, check! Sound, check!
Funny Game Show Host with non-stop one liners, check! Now imagine the energy of a Game Show… contestants from your party approaching the podium to the music, ready to face-off and ring the buzzer – it's hilarious!
A Full-Scale Game Show Production including:
• Custom designed set with Contestant Panels, Face-off Podiums and Classic Gaming Boards
• An opportunity to put up to 50 people in the game!
• LAUGHTER!
• All the sound and lighting needed to feel like a tv set
• Sound fx & hilarious game show music
• Highly energetic and comedic host(s)
• All questions and answers (customized Q&A upon request!)
• INCREDIBLE Team-Building Environment
• Did we mention LAUGHTER?

Additional Info
HOW DO THE TEAMS WORK?
There are two ways to do this.  The first option is to pre-select your teams.  We suggest 5 people per team, with 6 teams total.  This way you have the time to come up with a team name, and even unify your team with costumes or something that ties the team together.  The other option is to have teams form the night of the event.  We would have a chalkboard wherein we encourage guests to form a team and then 'sign up' to play by putting down their 'team name'.  The first 6 teams that sign up would play.
WHAT ABOUT EVERYONE WHO DOESN'T PLAY?
Here's the thing.  On The Price is Right, not everybody got to play.  But no matter how small or large the spectating audience is, guaranteed they are thoroughly entertained watching their peers interact.
GIMME GIMME!
The climax of our production does give everyone in the room an opportunity to get involved.  This is where we ask for 'the first person to show a $2 bill, or a Picture of their pet'.  We have 8 random people rush to the 'stage' to then compete in our 'Win It in a Minute' challenges with household items and highly energetic music.  An example, they need to pull all the tissues out of a tissue box with one hand as fast as they can.  We do a tournament style process of elimination, and narrow it down to one Grand Prize Winner.
 PRIZES!
Just bragging rights for being the highest scoring team we found is enough, however if you have prizes to give away- Game Show Nite is the place to do it.  If you have sponsors with items- perfect!  From gag gifts to serious gifts, we will find an opportunity to give things away.  The winning team of 5 people could get something, whether that gift is all the same or something different for each.  Throughout the game we have roughly 10 or so times we could easily spruce up 'getting answers right' with prizes.  Lastly, for the climax of the evening, there will be one person who is the Grand Prize Winner of Game Show Nite.  We supply a 'Winner' Sash, but again, this is the opportunity to give away something big if desired.
SET-UP & STRIKE
We'll need 3 hours to set up.  Ideally we love to set-up as early as possible (even the day before isn't too early for us).  To strike the set, we can usually have it all gone in 2 hours.
Q & A:
We have a plethora of wonderful questions in the format of Family Feud.  You could do a mish-mosh of all questions, or decide to go with an all Hawaii Theme.  We also have a 70's Show, an 80's Show and a Restaurant/Foodie Show.  But here is where we can really add to the customization of your group.  All we need are about 20+ facts, figures or statistics about your group, and we will turn them into True/False, Higher/Lower Questions.  If desired, we can even make custom boards with answers about your group (additional fee).
We guarantee that Game Show Nite will have people on the edge of their seat.  Laughs, Interaction and Fun is impossible to not have with us.